What's special about the Indian food menu at Mynt Orlando?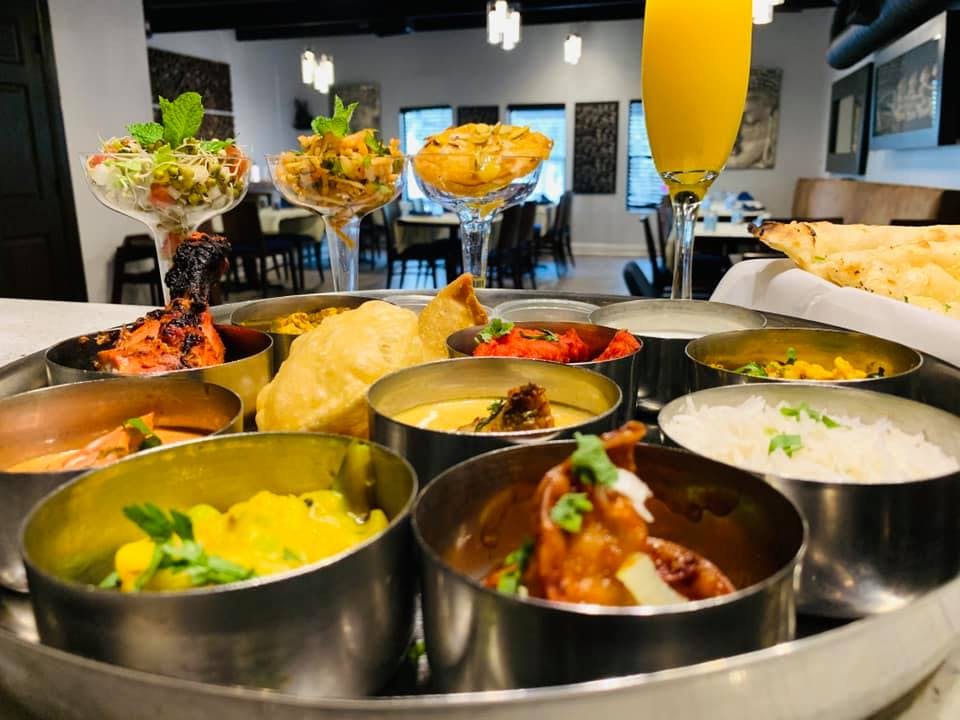 Indian food menu lists down all the delicious dishes of Indian cuisine which are supposed to be shared in groups and consumed until everyone is pleased. All of your courses will be served at the same time on a thali platter.
A thali is a huge tray used to serve all of the foods at the same time. Some dishes are sweet and mild, while others are spicy and scorching. Because many Indians have numerous smaller meals during the day, most dinners are served later in the evening. The menu includes everything from simple vegetarian meals to complex delicacies with layers of texture and taste. Meals are planned and prepared with great care, no matter how simple they may appear.
Indian cuisine has been around for about 5000 years. Each region's food is influenced by its particular customs, beliefs, and culture. Although pork is forbidden, Hindus tend to be vegetarians while Muslims tend to consume meat dishes.
Mongolian, Persian, and Chinese cuisines, among others, have affected Indian cuisine. The particular combination of spices that invariably gives Indian cuisine its flavour and scent has been a consistent thread over the millennia.
Ingredients of Indian food menu dishes
Indian ingredients used in Indian food menu dishes are as diverse as the people of India and the meals available in each region. Masala refers to a spice mixture. Spice blends are used in specific foods. For example, cardamom, cinnamon, cloves, and fennel are used in biryani, an oven-cooked rice and vegetable, fish, or meat meal.
In all varieties of Indian cuisine, chilies, mustard seeds, gramme flour, coconut, and yoghurt are common components. Ghee is a sort of clarified butter that has a toasted flavour and is used in cooking. Rice dishes are flavoured and coloured with saffron. Over the course of 5,000 years, you learn to make the best of what you have.
Elements of Indian food menu:
Regional Cuisine
North, south, east, and west have different food options. Northern Indians favour flat breads such as chapati and naan, while southern Indians prefer rice and coconut. The versatile coconut not only supplies milk, but it also thickens stews, forms a chewy snack, and is utilised as an ingredient or garnish in many sweet southern cuisines.
Western India is increasingly cosmopolitan, yet traditional spicy curries are still popular. At the heart of the region, Mumbai, originally Bombay, is teeming with city people, students, and employees. Traditional meals vary by region, but seafood and curries, hot and spicy sausages, and snacks with chai tea are all popular.
East Indian cuisine is based on rice, milk, and vegetables, which are steamed and curried with yoghurt, seeds, and spices. East Indians adore sweets and use a lot of milk and other dairy products in them.
Desserts
Kheer is a sweet rice pudding similar to rice pudding in the United States. Basmati rice, milk, raisins, sugar, cardamom seed, and almonds make up this dish. Kulfi is an Indian ice cream that is produced by boiling reduced milk, chillin it, and then flavouring it with mango juice, rose water, and sugar. Also popular are Gajar Halwa, a carrot dessert, coconut soufflé, mango mousse, and Gasgase Payasam are some of the few dishes of Indian food menu that are loved by all.
Drinks
Chai is a tea that many people drink first thing in the morning. It's produced by steeping teabags in milk, sugar, and black cardamom pods. Sweet Lassi is a yoghurt shake that, like a smoothie, can be sweetened with mango, a favourite fruit. Also popular are ginger and lemon teas, which can be used for therapeutic purposes such as dyspepsia.
Carrot Gheer is made by combining carrots with cold milk and serving. Because alcohol is prohibited in many Indian communities, it is rarely consumed. Tea is more popular than coffee, and roadside booths and kiosks sell coconut milk, mango, guava, and sugarcane juices. Jal Jeera, water, and cumin may be to your liking if you desire something salty.
About Myntorlando
MYNT is an Indian restaurant in Orlando with an exotic Indian food menu. Their team of chefs ensured that their Indian food menu serves almost 100 + authentic food varieties to ensure that their customers get the original taste of Indian cuisine at the comfort of their city.
They have been gratifying the cravings of our local clients and tourists from all over the world by serving finger-licking authentic Indian food in their restaurant. It's almost certain that after you eat their food, you'll fall in love with their Indian food menu all over again and start planning your next visit.
Some popular dishes in Indian Food Menu
Chicken Tikka masala
It's a mouthwatering grilled chicken meal with a thick, creamy gravy that will leave you speechless after one bite. A tomato-yogurt sauce is spiced with chilli, garlic, ginger, and garam masala, a popular Indian spice mixture. To get that creamy, sour flavour, the chicken is marinated overnight, roasted, and then gently fried in smoky gravy.
Malai Kofta
Vegetarian meatballs are meatballs that do not contain any meat (vegetable "meatballs" in a thick sauce). Cooked and mashed potatoes, carrots, beans, peas, and sweet corn are blended with spices and Paneer, a block of cheese that has a texture similar to tofu and is a perfect addition to any vegetarian dish.
Peshawari Chole
A dish that can be served for breakfast, lunch, dinner, or as a quick snack to quell hunger. Chickpeas, also known as garbanzo beans, are the main ingredient. Folate, iron, carbohydrate, and vitamin B are all abundant in the legume. The tomato-and-onion sauce is spiced up with garlic, ginger, chiles, and other healthy ingredients.
Aloo gobi
This isn't the most enticing dish on the Indian buffet. You could walk right by it on your way to basmati rice and chicken tikka masala. But, with all that turmeric, ginger, garlic, and cumin in the mix, this potato-and-cauliflower combo gets high marks for taste and heart healthiness. It's a 10/10 for keeping everyone healthy while also tasting amazing.
Kebabs
To summarise: meat + spices + grill = pure protein. Instead of pilaf, order it with a tomato chutney and brown or whole grain rice to hit high on the healthometer
Lunch Plates
Choose the Mynt Lunch Plates from their amazing Indian food menu if you don't want to waste time searching the Mynt menu and ordering food. Tiny portions of various Indian dishes, from appetizer to dessert, are served on the lunch plates. One lunch plate provides a satisfying meal for one human.